Over the past few years, carry-out sales and the success of ghost kitchens have skyrocketed, bringing in billions of dollars for the foodservice industry and changing the way Americans eat. Whether you're just entering the restaurant business or you're an industry veteran looking to improve, there's always more to learn about food packaging.
Wondering how to package food for delivery?
From branding to material choices, there are plenty of ways to increase your packaging quality and bolster your takeout experience. The perfect takeout container can keep your delicious food looking and tasting like it just left the kitchen. We've put together essential tips to keep your food safe for the long haul.
Find a material that fits your food
You can't put soup in a paper bag, and pizza doesn't tend to taste right coming out of a plastic container. Every food has an ideal packaging material, so depending on your menu, you may need a variety of options to keep everything tasting as it should.
Common packaging options to choose from include:
Paper and cardboard – Relatively inexpensive and often recyclable, paper and cardboard packaging is ideal for sandwiches, baked goods, and, of course, pizza. You can opt for recycled paper packaging to reduce your carbon footprint and offer an eco-friendly alternative to your customers. The downsides of paper products include their overall flimsiness and absorbency.
Plastic – This is the go-to choice for pasta dishes, juicy fruit, soups, and foods with broths and heavy sauces. Plastic can be microwave safe and durable, making it a reliable choice for many kitchens. With the option for recycled plastic materials and customizable designs, plastic packaging may be a great fit for many businesses. That said, plastic packaging is also known to lose heat quickly and retain moisture, leading to soggy food.
Foam – The classic foam takeout container is prized for its ability to retain heat, keeping everything from rice dishes to steamed buns warm long after they've left the kitchen. Unfortunately, foam isn't recyclable, compostable, or eco-friendly. Additionally, brittle foam containers can bend and break, causing major headaches for staff and customers alike.
Aluminum – Aluminum packaging can keep your casserole extra hot or offer a safe way to transfer mouthwatering BBQ ribs. While foil is excellent to use for packaging your hot food, it can be a more expensive and less flexible option.
Alternative materials – Today, there are several new varieties of containers, including some made from hemp, sugarcane, rice husk, and so much more. If you're committed to a fully biodegradable option or just interested in expanding your packaging knowledge, there are more options than ever.
Ultimately, you'll need to determine what will complement your brand and business without compromising taste or exceeding your budget.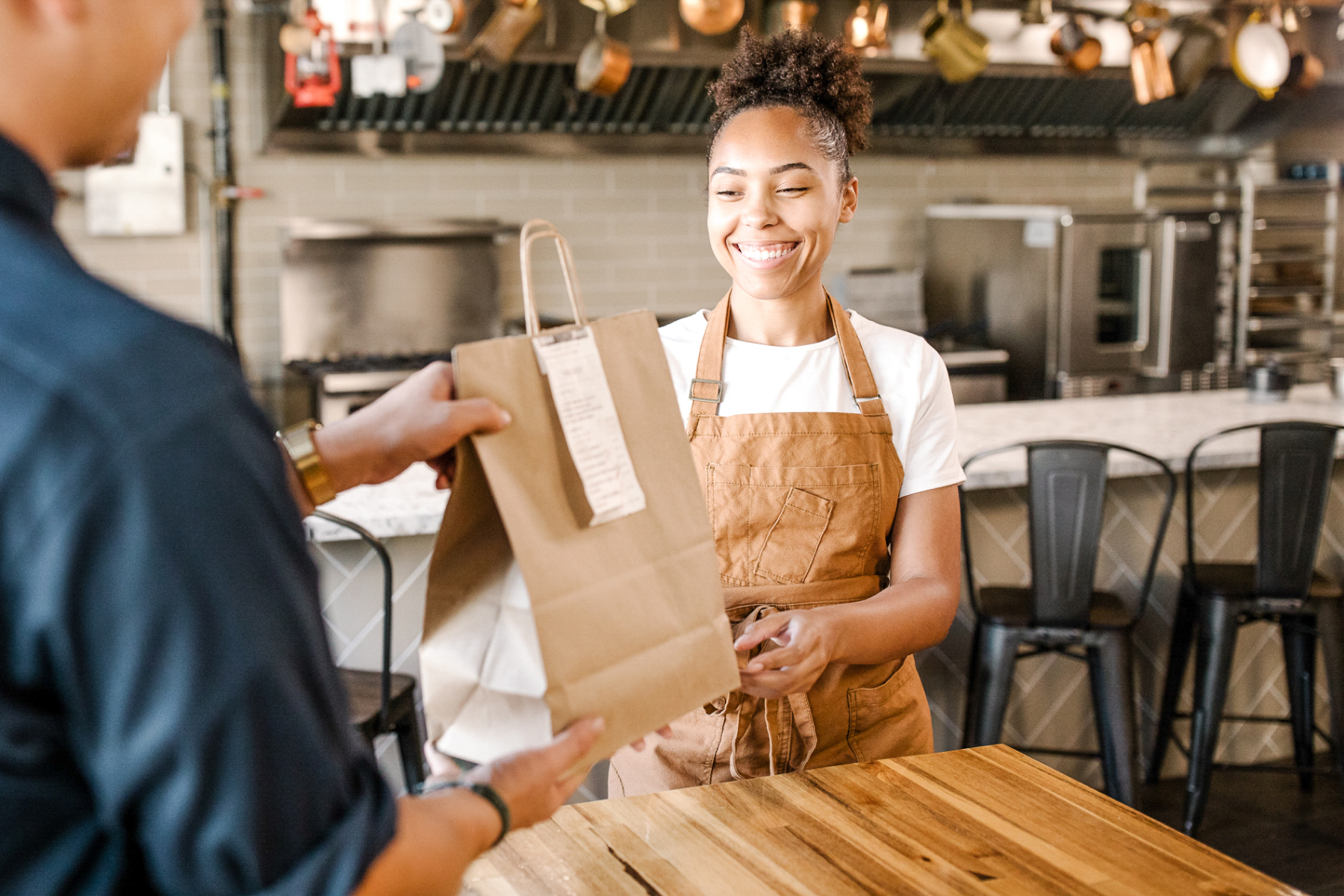 Prioritize durability
You need a package that can handle pick-ups, deliveries, and the long rides in-between. This requires a little hands-on experience. While browsing packaging choices online can give you a good idea of what to expect, you won't truly know until you're holding the packaging in your hands.
To determine whether a particular package will hold up under standard delivery conditions, consider the following:
Strong seal – Whether your packaging choice has a pop-off plastic lid, paper tabs, or aluminum foil, a strong seal is essential for safe delivery. Your food may get shaken, flipped around, and jostled during the delivery, so inspect your packaging thoroughly. You don't want your delectable dishes all over the floor of a driver's car.
Stress test – Are there any weak points in the construction of your packaging? Can you poke a finger through without much effort? Make sure your packaging can withstand the stress expected from delivery and standard kitchen handling. Some flimsy packages lose their shape or fall apart before they've even left the kitchen.
Absorbency – An overly absorbent package will begin to fall apart long before it arrives at the customer's door. You might consider packages with moisture-resistant materials to ensure everything arrives in one piece.
Before you start sending out to-go orders, you'll also want to invest in bags to bundle your orders together. Paper, plastic, recyclable—your options will vary.
Size your packaging to your portions
We've all had the awkward experience of placing a small food item in a large container. Not only does the process feel wasteful, but it also leaves food to slide around, causing a very messy meal when the food container is finally opened up. On the opposite end of the spectrum, if your packaging is too small, you run the risk of spillage, overflow, and generally mangled meals.
Ideally, you should match the size of your food container to the size of your dish. In practice, this means exploring a few unique ways to provide the perfect sized packaging, including:
Multiple container options – It may be tempting to try and purchase a single style of container for all your delivery needs. This might cut down on costs, but it could add to packaging waste and leave your customers frustrated when it comes time to enjoy their food. Small, large, and medium-sized containers can ensure each dish has an appropriately sized package.
Packaging divider – There's nothing worse than receiving a meal only to find the various components mixed together. Save your next delivery by exploring packaging with distinct dividers. Divided packages allow for a single container to carry several different foods, saving you from the extra expense of packaging everything separately.
Ramekins – Looking for a better way to transport a sauce, dip, or broth? A small disposable ramekin can keep everything safe during transit and allow your customers to enjoy your meals as you intended.
Make your brand stand out
Looking for a simple way to establish your brand and expand your marketing? Branded packaging allows you to spread the word while conducting business as usual. Instead of a pricey marketing campaign, you can turn attention to your restaurant with eye-catching packaging, and even a modern and stylized ghost kitchen menu.
Consider the following tips for brand-forward packing:
Keep your name front and center – There should be no mistaking your restaurant. Add your business's name, logo, and contact information directly to your packaging or delivery bag. It's a great way to make every delivery an advertisement for your business and ensure your customers never forget where their delicious meal is coming from.
Create consistency across all platforms – Keep your designs consistent to increase your brand recognition. Choose a color scheme, logo, and distinct font to use across all your marketing materials. From uniforms to carryout bags, a unified look can go a long way toward crafting an unforgettable brand experience.
Hire a professional – We all have an artistic side, but a professional graphic designer has the knowledge and expertise to elevate your branding. Explore your options and find a professional collaborator who can combine your ideas with their skill for the perfect final product.
Since takeout can't provide the ambiance and one-on-one service of a traditional dine-in restaurant, you might consider adding your own personal flair to your takeout meals. Add in a small thank you, a coupon, or a fun message to create a more personal connection with your customers.
Make it customer-friendly
At the end of the day, your packaging is about meeting customer's needs. From the materials to the branding, delivery packaging is about considering the packaging experience from the perspective of a hungry customer. Knowing precisely what diners want isn't always easy, and expectations are always changing, but there are a few key ways to emphasize customer comfort.
Keep serving your customers by prioritizing the following:
Clear labeling – Let your customers know what's what by providing clear labeling on each dish. Sometimes acronyms and abbreviations will do, but occasionally, it may be worthwhile to spell out the full dish name on the package. (After all, you don't want a vegan burrito mixed up with its steak counterpart!) Additionally, make sure to warn your customers if any dish is dangerously hot to avoid any potential injuries.
Instructions – Direct your customers on how to open their packages. It might not be rocket science, but pulling from the wrong end of a package can lead to a serious mess and a less-than-pleasant dining experience. A simple arrow or an indication about where to open can have a huge effect.
Cutlery, condiments, and minor additions – There's no telling what your customer might have at home, so provide the option for disposable cutlery, condiments, and any minor meal add-ons. Likewise, provide the option for them to skip the cutlery and paper napkins if they'd prefer to keep it eco-friendly.
CloudKitchens: take your takeout to the next level
Now that you've gained a little knowledge about food delivery packaging, you should have all you need to make your takeout an unparalleled success. Now, if you're interested in a simple, turnkey solution to grow your business and get more of that packaging (and food!) into customers' homes, it's time to check out CloudKitchens.
Where starting a traditional restaurant requires a large capital investment, extensive staffing, and a 12-month lead time, CloudKitchens can streamline, simplify, and bring your kitchen to life in a matter of weeks. We have locations all across the U.S., so if you're looking to open a ghost kitchen on the West Coast or expand your virtual brand on the East Coast with a ghost kitchen in Philadelphia, we've got you covered. It's a low-risk way to experiment with cuisine and learn how to increase your restaurant sales. Ready to take your place in the on-demand food economy? Visit us today.
Sources:
1 Restaurant Business. Takeout ruled in 202, and it's likely to continue. https://www.restaurantbusinessonline.com/consumer-trends/takeout-ruled-2020-its-likely-continue
2 Healthline. 5 Types of Eco-Friendly Food Packaging (and 3 to Avoid).
https://www.healthline.com/nutrition/eco-friendly-food-packaging#avoid-these
3 FSR Magazine. Food Packaging Design Tips, and Why it Matters. https://www.fsrmagazine.com/expert-takes/food-packaging-design-tips-and-why-it-matters
---
There's more where that came from.
Get in the know and check out our additional insights
View all posts
Start
cooking with us

today