We've got the inside scoop on ghost kitchens. We're diving into how they work, the different types, whether they're profitable, and how you can get started. Our detailed guide will help you navigate this booming industry and determine which ghost kitchen model is the right fit for you and your restaurant business.
This guide will help you answer:
The lowdown on ghost kitchens
Ghost kitchens (a.k.a. dark kitchens or delivery-only kitchens) - you've probably been hearing about this new trend circling around the restaurant industry. With the shift in demand during the pandemic, this trend is only moving faster as delivery has become the lifeblood of many restaurants. In fact, in the United States alone, 60% of consumers are ordering delivery or pickup at least once a week.1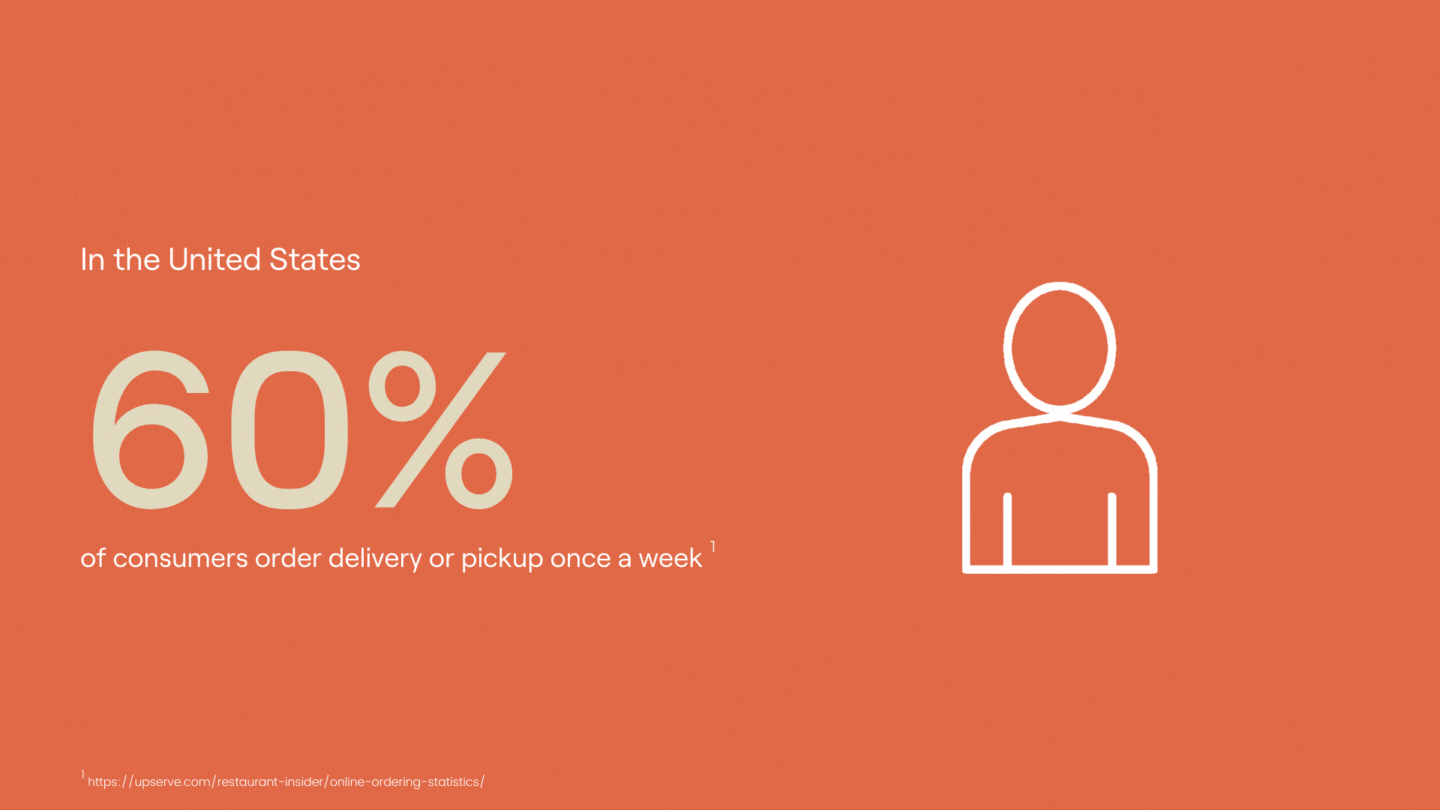 Now more than ever, the cost of running a traditional brick-and-mortar restaurant is overwhelmingly high, with skyrocketing overhead costs in an uncertain demand period. Simply put, traditional restaurants just aren't built for delivery.
Even further, demand for food delivery is at an all time high, where customers are able to order food from their favorite restaurants in any given city. Customers are browsing their favorite foods online and ordering their favorite dishes directly from their couch.
You value your restaurant and the experience it has to offer your customers, and may be wondering how you can maintain that experience when shifting to delivery.
We're here to provide you with everything there is to know about ghost kitchens, so you can make the next best decision for your business and feel confident about your success even during unpredictable situations.
What is a ghost kitchen?
Ghost kitchens, also known as dark kitchens, are commercial kitchens optimized for food delivery service. Each delivery kitchen is located in areas with a high concentration of delivery demand. The kitchens themselves don't have a storefront and the staff prepares dishes off of their menus that are only available for delivery. Think of it as a virtual restaurant operating as a digital storefront, with a few back-of-house staff members working on fulfilling online orders. Instead of a physical location, your presence is digital, allowing you to reach more customers than you ever could with just a physical location.
Ghost kitchens provide you with prime real estate at a fraction of the cost, compared to brick-and-mortar. Plus, they come with fulfillment and logistics services, so you can focus on cooking. With ghost kitchens come endless possibilities in terms of what you can do to launch new brands or manage multiple virtual restaurants all in one place, since your presence is online.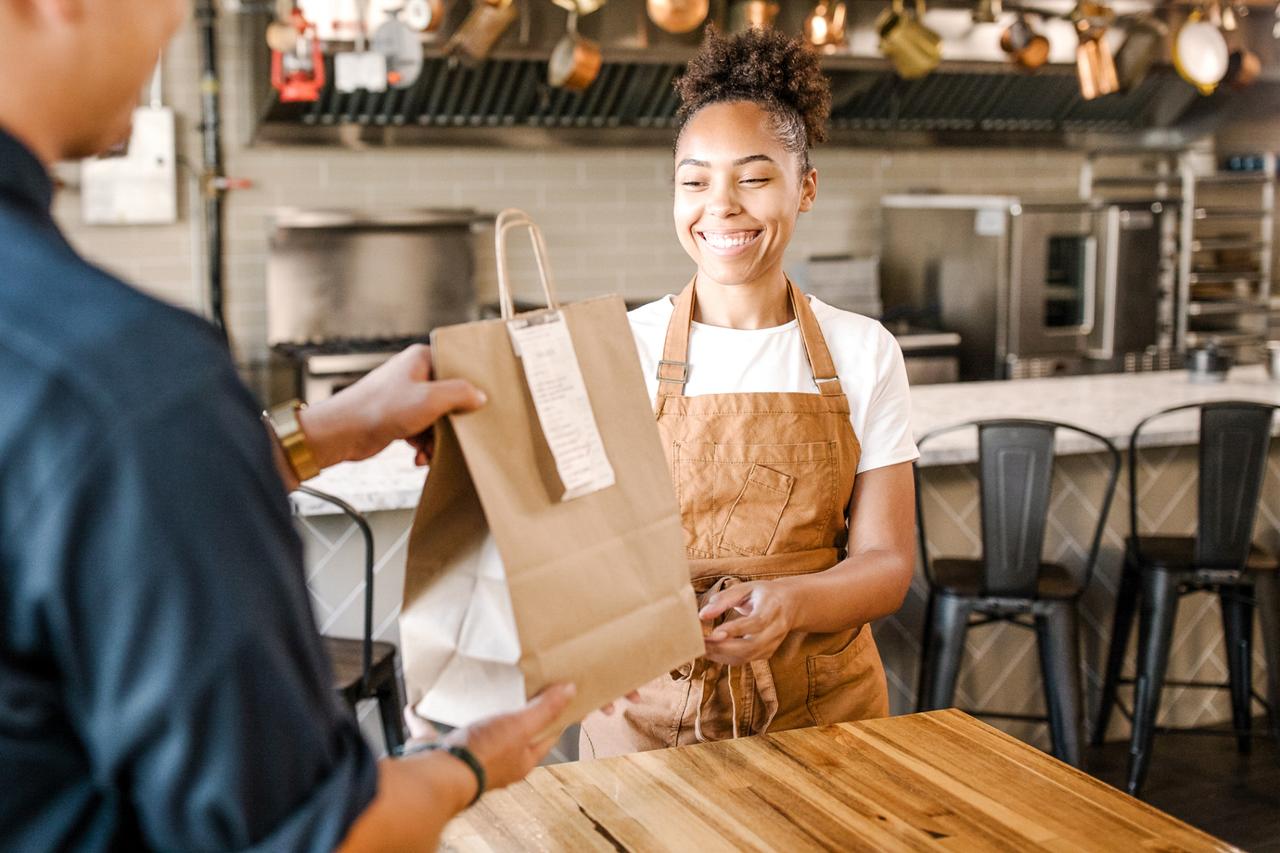 When you understand how valuable of a concept this is for the customer, you know how crucial it is to master delivery so you can better meet their needs.
Ghost kitchens allow you to tap into the online delivery business which is rapidly growing and projected to reach $1 trillion by 2030.2 Now more than ever in the restaurant industry, it is crucial to adapt to the online delivery market to capitalize on market demand.
In order to remain competitive, it is vital to build a delivery service using a ghost restaurant or ghost kitchen model that works based on current demand.
How do ghost kitchens work?
To get started in a ghost kitchen or virtual kitchen, you'll begin by renting out space at a facility where you can prep delivery orders. Once you're setup with the commercial kitchen equipment you need to operate, you'll launch your restaurant brand online across multiple delivery apps. Then you'll watch incoming orders and prepare food in your delivery-only kitchen space.
With the recent rise in popularity of major food delivery providers (Uber Eats, Doordash, Postmates, etc.), it's more important now than ever to build a delivery model that works. At CloudKitchens, we provide the infrastructure and technology you need to run a successful delivery kitchen business/virtual brand.
Each existing kitchen is fully equipped with basic amenities and customizable options to best meet you and your customers' needs. You have more flexibility than ever before, where you can get creative in the kitchen again, and try new menu ideas and concepts. Here's a quick video showing how CloudKitchens work.
First, you'll get access to your own ghost kitchen, fit with basic commercial kitchen equipment so you can customize it to your needs. We'll provide the technology to track your orders effectively and efficiently.
Next, your customer places an order and no matter what delivery app they use, you'll accept all deliveries through one single tablet. Then you'll cook up the order from your delivery-only kitchen.
You'll mark the order as complete right from the tablet in your kitchen, and our team will take care of the rest to fulfill the order from your existing restaurant. Each of our delivery hubs has a processing center on site with a dedicated team ensuring that each order makes it into the hands of the right delivery driver in the shortest amount of time.
Thanks to faster and more accurate deliveries, you'll see the 5-star reviews start to roll in from your customers for your existing restaurant business. And in case you missed it, reviews will make or break you, so it's crucial to drive positive sentiment online.
Curious how to get started marketing your ghost kitchen online? Check out our 8-step checklist.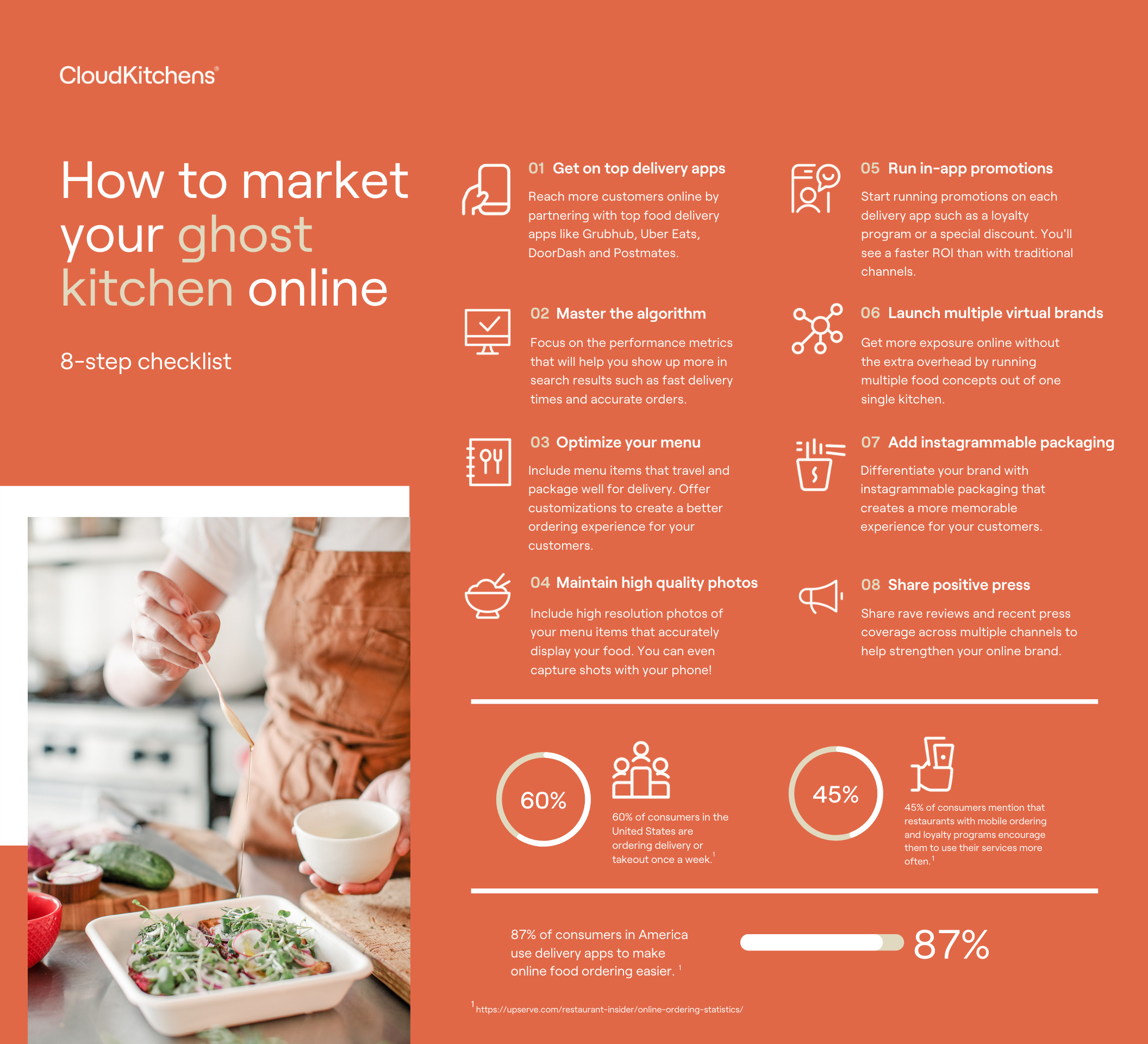 You can also download our free restaurant marketing checklist, to ensure you're setting up your restaurant (or multiple restaurants) for delivery success.
Now, let's dive into how ghost kitchens compare to a traditional restaurant.
What's the difference between a ghost kitchen and delivery at a brick-and-mortar?
A ghost kitchen concept operates differently than a brick-and-mortar. In a traditional brick-and-mortar that offers restaurant delivery services, there's typically limited parking for delivery drivers and poor operational workflows that result in slower deliveries, more room for error, and an interrupted dine-in experience.
On top of this, you're juggling incoming orders on multiple tablets, making it difficult to track each order and ensure order accuracy.
In contrast, ghost restaurants or ghost kitchens simplify your delivery operations and increase your efficiency with every order. At CloudKitchens, you get the benefit of logistics and fulfillment handled for you, so all you've got to do is keep making amazing food. You cook up the order, place the food right outside your kitchen, and a runner will handle the rest. In other words, you fulfill more orders in less time.
You may already be delivering out of your brick-and-mortar restaurant and are wondering how it's any different from a ghost kitchen. We're breaking down the key differences so you can better understand the value of each.
Less overhead costs
You're always looking for ways to cut costs while maintaining quality, but it can be difficult in an expensive brick-and-mortar with more and more delivery orders coming in. With profit margins being squeezed from both sides and multiple delivery tablets to juggle, it is tricky to focus on delivery and streamline efficiency.
In a ghost kitchen, you're cooking in a delivery-optimized kitchen that's designed to cut unnecessary costs. Rent is low and efficiency is high. You have your own private commercial kitchen space within a delivery hub to cook up orders. It can be difficult to expand your traditional restaurant with high overhead costs. But with ghost kitchens acting as satellite kitchens from your main base of operation, you can easily expand from coast to coast with low capital.
With lower labor costs and overhead, you're able to shift gears and get back to the reason why you opened a restaurant in the first place: to bring tasty food to happy customers.
Optimized for delivery
Ghost kitchens provide you with kitchen space that's dedicated to fulfilling each online order. At CloudKitchens, each one comes equipped with the proprietary software needed to track orders and decrease delivery time, meaning more happy customers leaving raving reviews. All your delivery orders are streamlined onto one single tablet, regardless of which delivery app the customer is using. This means real-time, accurate data right at your fingertips.
With a dedicated onsite fulfillment team ensuring each order gets in the hands of the right delivery driver, you're able to cook up more orders and get them into the hands of your customers in less time. The more accurate your ETA with delivery, the better online ratings you'll receive. With your own ghost kitchen, growing your restaurant business and expanding into new neighborhoods has never been easier.
Simplified menu items
When you're running delivery out of your brick-and-mortar restaurant, you may be more likely to include any or all menu items available for delivery. When it comes to ghost kitchens, you're working for efficiency, and with that comes a simplified menu with items that travel well and are packaged nicely for any online ordering.
With each online order, you're able to leverage the data you receive to plan your supply chain and labor needs based on demand, even across multiple restaurants. This means you can optimize your online menu based on demand, so you know which items to keep and which ones to 86.
This means less wasted ingredients and fewer hours spent producing menu items that aren't in high demand. Instead, you're able to narrow down your virtual restaurant menu based on what's trending in your delivery area.
More online traffic
You know that with a traditional brick-and-mortar, location is key. But with ghost kitchens, foot traffic is taken out of the equation. You're no longer relying on your physical storefront to bring in new customers, hence the name virtual kitchen. Instead, you're able to reach a higher volume of customers searching for food online. In fact, as of 2021, about 6 in 10 adults claim that they're more likely to order online delivery than dine-in.3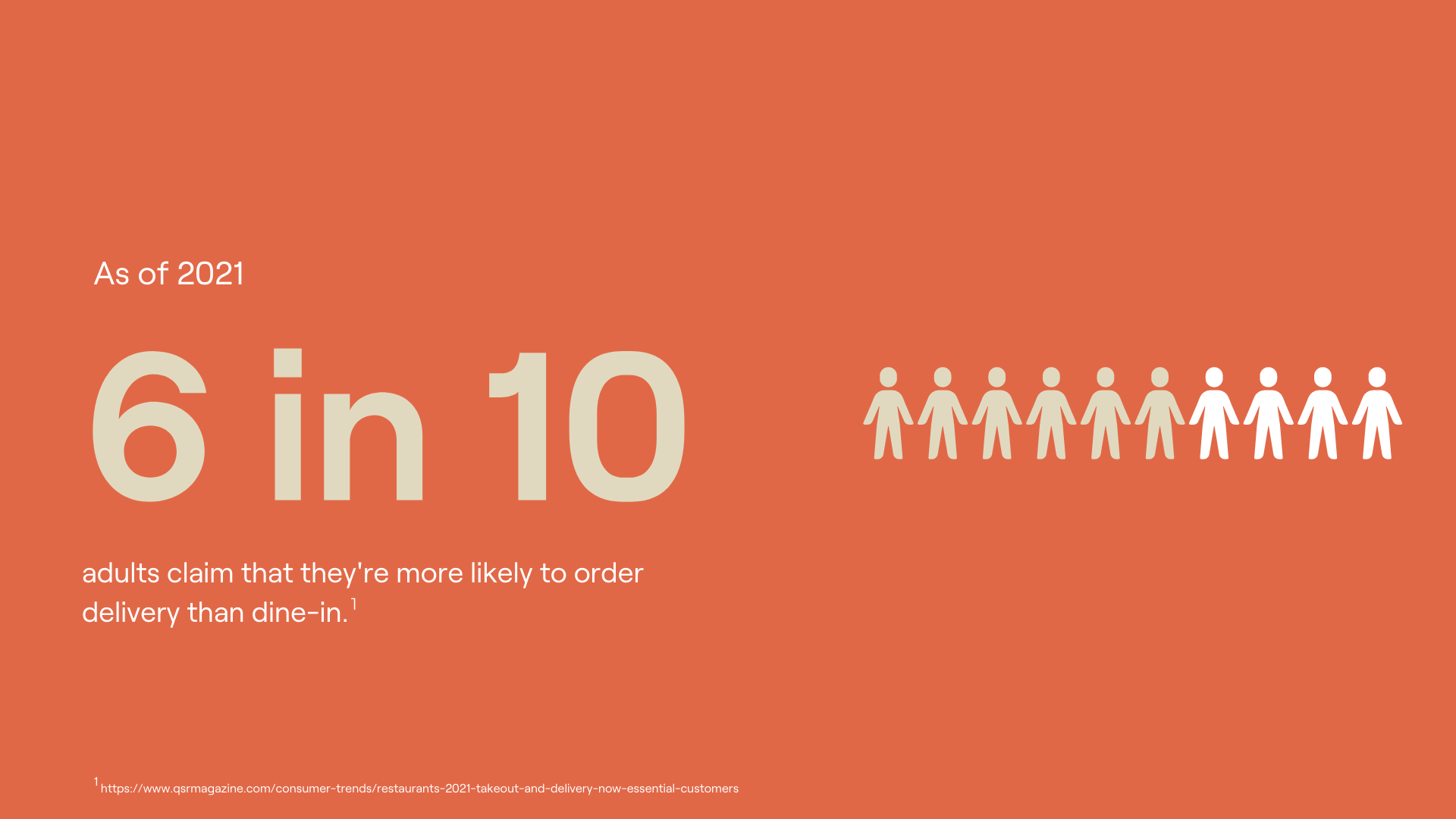 Easily set up your virtual brand on each food delivery app with great images of some of your best dishes, and that's it. There's no need for printing new menus or maintaining a large front-of-house staff. All you have to do is get set up online and start taking orders.
There are many different types of ghost kitchens, so we've created a breakdown of each so you can understand which one is best for your restaurant business.
What are the different types of ghost kitchens?
Ghost kitchens come in all shapes and sizes, with some spaces being shared and others being used by just one restaurant brand. We've broken down the different types so you can understand which is the best fit for you.
Commissary kitchens
Let's say you're a food truck owner with multiple food trucks in the LA area. With limited food prep and storage space, it can be difficult to fulfill each order quickly. With commissary kitchens, you have dedicated space to prep your food and distribute it out to your different locations.
You get a shared kitchen space that's available to rent based on your schedule, which makes it super flexible. Whenever you need more space to prepare orders or store ingredients, you can access your commissary kitchen without having to incur the costs of actually owning the facility.
You'll have the basic equipment you need to get started quickly and efficiently. A commissary kitchen provides a lower cost alternative to opening up a new kitchen on your own. You'll be able to rent the real estate without the financial setback or commitment.
Commercial kitchens
Do you typically receive larger online orders where you need plenty of kitchen space and support to fulfill them? Commercial kitchens are larger, industrial kitchens that are licensed to restaurant brands and catering companies to prepare food.
With a commercial kitchen, you're set up with your own private kitchen space to cook.
There's no need to rent out specific time slots or worry about sharing your space. With commercial kitchens, you have your own dedicated space to prep orders whenever you need it.
Incubator kitchens
Incubator kitchens, also known as pop-up kitchens, are temporary kitchens that are attached to a brick-and-mortar restaurant, within a food truck or even a kiosk. These pop-up kitchens are designated as space for preparing incoming delivery orders.
This helps staff divide and conquer, allowing the workload for deliveries to shift to the incubator kitchen instead of tackling all orders in one kitchen which can lead to inefficiencies and incorrect deliveries.
These kitchens are designed to help streamline efficiency for each delivery order that comes into the brick-and-mortar restaurant. It provides a dedicated space for order prep and a designated area to hand off to arriving delivery drivers.
Within each incubator kitchen, you have shared space for delivery-only so you can try new brands at a time that works best for you. Similar to commissary kitchens, you have the flexibility you need to test multiple concepts out of one single kitchen space.
Kitchen pods
Compared to other types of ghost kitchens, kitchen pods are easy to transport between locations such as parking lots and behind restaurants. These usually come in the form of shipping containers used as flexible kitchen space. This provides restaurateurs with the ability to cook anywhere and reach customers on the ground.
Although they're easier to transport, they're also much smaller. Plus, kitchen pods are usually dark without any windows, making it more difficult to quickly prepare orders and effectively meet delivery demand. It can be difficult to efficiently prepare large orders with minimal ventilation and natural light.
CloudKitchens
CloudKitchens provides restaurateurs with their secret sauce for delivery expansion. Whether you're a food truck owner, franchisee, local restaurant owner, or part of a national chain, we've got the expertise you need to get your delivery down to a science. CloudKitchens offers a variety of delivery solutions to best fit your specific needs. If you're looking to grow your restaurant business or simply need some extra prep space we'll be with you every step of the way. Our ghost kitchens are designed with delivery in mind.
CloudKitchens: How it works
Prime real estate
You have your own private commercial kitchen space within a delivery hub to cook up orders.
With your ghost kitchen comes 200 to 300 square feet of prime real estate at a fraction of the cost. Ghost kitchens provide you with real estate within a delivery hotspot. This means you're strategically located in an area where you will capture the most online orders from customers nearby.
With a traditional brick-and-mortar restaurant, you know that location means everything and that typically comes with a high price. But shifting to delivery-first means you can eliminate unnecessary costs without having to worry about how much foot traffic your restaurant will have. With delivery-optimized facilities that are easily accessible for delivery drivers, it's never been easier to reach a high volume of customers in the heart of a city at such a low cost.
Some restaurateurs are just using our space as a commissary kitchen, too, since our locations are right where all the action is happening. You may be asking yourself, "Is there a commissary near me?" With CloudKitchens, you'll have access to the restaurant kitchen space you need to keep growing your food business.
Proprietary technology
Each ghost kitchen at CloudKitchens comes fully equipped with the proprietary software needed to give you better tracking and actionable data. This technology within each kitchen aggregates all your delivery orders into one place, rather than having a tablet for each app. That means less room for error, more efficient operations, and better data.
With key insights into market demand right at your fingertips, your restaurant will be running as efficiently as possible. You can even leverage the data to plan your supply chain and labor needs based on demand.
Logistics and fulfillment
Instead of managing delivery all by yourself, you have a dedicated on-site fulfillment team to ensure each delivery is accurate and efficient every time.
Having a restaurant in a prime location usually comes with the constant headache of managing multiple delivery drivers entering your restaurant and keeping track of every order that comes in. CloudKitchens sets you up for success with a dedicated team to ensure each order gets in the hands of the right delivery driver.
As soon as you mark an order as complete, our fulfillment team will come grab it, process the order, and hand it off for delivery as soon as the driver arrives. This can cut down your delivery time by 30%, and you never even had to step foot outside your kitchen. And in case you missed it, faster deliveries make happier customers.
Facility management
Cleaning, maintenance, and security is all taken care of for you so there's no wasted time on extra tasks that keep you busy. All you need to do is make great food, and we'll provide the support you need to grow your restaurant business online.
How does a ghost kitchen help your restaurant grow?
To put the value of a ghost kitchen into perspective, let's say you have a franchise restaurant and due to the pandemic, you had to shut down. You could have potentially offered take-out prior to the pandemic, but that only goes so far when you've got rent to pay on a brick-and-mortar.
This is where CloudKitchens comes in. You can quickly set up your restaurant to focus on delivery, minimize your costs, maximize your revenue, and resume cooking your best dishes.
Put simply, a ghost kitchen gives you the opportunity to build a successful restaurant concept and return to business as usual.
Turn-key solution
You can launch a ghost kitchen in one month or less. With minimal upfront capital and immediate access to the software and kitchen space you need, you have all the tools needed to have a successful delivery-only restaurant.
With commercial kitchens and storage space designed to help you run your delivery business, you'll be able to optimize your business and minimize costs. Our kitchens come fit with basic equipment, like a commercial kitchen hood and three compartment sink. That way, you can customize the rest of your equipment to fit your needs.
Focus on the food
You're probably in the restaurant business because you're passionate about cooking, but have you become overwhelmed with managing the operations side of your deliveries?
Our kitchens come with all the pieces of the operations puzzle, so you can focus on the food. CloudKitchens helps take the stress out of implementing a new business concept so you can get back to doing what you do best. All you've got to do is cook - we handle the logistics and fulfillment to make sure your orders are delivered with more accuracy, in less time. That way, you can better serve your customers.
Build multiple concepts out of one kitchen
Don't miss this: since your presence is digital, you can create more than one brand to target different segments online. Let's say you run a Mexican food restaurant. Split that into street tacos, a fajitas concept, and a breakfast burrito brand, and you've just tripled your exposure on delivery apps. Our most successful restaurant operators are often running five or more brands, and it's all being cooked out of one single kitchen.
Experiment with low risk
Have you dreamt of running a successful restaurant business, but always felt overwhelmed by the significant amount of time, money and risks that come with doing so? Opening a traditional restaurant comes with significant upfront capital and a lengthy ramp-up period, making it a high-risk endeavor for you
But with CloudKitchens, you can unleash your creativity in the kitchen without losing your shirt, thanks to a low investment and high reward. Consider this your secret ingredient for expansion. You can easily build your delivery-only restaurant and reach a high volume of customers without being bogged down by the financial burden of a traditional brick-and-mortar.
Plus, the ability to run multiple brands we just covered leaves more room for experimentation without a big risk. You've got the flexibility to experiment with new food concepts and brands and figure out what works without spending months building out a brick-and-mortar location each time.
Opening a ghost or dark kitchen requires minimal investment and risk, with unlimited opportunity to grow your restaurant business in the online delivery world.
Minimize cost, maximize profit
We all know restaurants are a low margin industry, but ghost kitchens help you maximize that profit by getting smarter about how you run your delivery business. With ghost kitchens, you're able to get started with little capital (we're talking $30K instead of $1M), and you'll cut down on operational costs like front-of-house labor, wasted food, and expensive real estate.
In a typical brick and mortar restaurant, you're likely spending about 30% of your sales revenue on labor alone.1 When you partner with us, you can run your restaurant business with as few as 3 to 5 back-of-house staff. Since there's no front-of-house staff needed, you don't need as many hands on deck.
Curious to learn more about how labor costs in a ghost kitchen compare to a traditional restaurant? Download our side-by-side comparison report.
Are ghost kitchens profitable?
Yes, ghost kitchens are profitable. These delivery-only kitchens help you minimize costs while maximizing revenue. You're able to cut costs on front-of-house labor, overhead, and wasted food. You can also maximize revenue across all delivery apps and optimize your online presence. Since your presence is digital with ghost kitchens, you can maximize your exposure even further with multiple brands running out of one single kitchen.
How do you start a ghost kitchen?
At CloudKitchens, you can launch a ghost kitchen in one month with little capital, and our team of experts will partner alongside you to set you up for success with delivery. Whether it's Orlando or a ghost kitchen in Sacramento, we have you covered.
Times have been tough, but managing your restaurant shouldn't be. We're as passionate about food as you are, and that's why we've created a model where restaurants can thrive with delivery, even in the midst of a pandemic.
Ready to see a ghost kitchen for yourself? Schedule a tour at one of our CloudKitchens facilities to see what all the buzz is about.
Looking for a ghost kitchen in Austin, Chicago, Minneapolis or somewhere else in the US? we have a variety of options to best suit your needs. Connect with us to find the location nearest you!
Sources
1 https://upserve.com/restaurant-insider/online-ordering-statistics/
2 https://www.restaurantdive.com/news/ghost-kitchens-global-market-euromonitor/581374/
3 https://www.qsrmagazine.com/consumer-trends/restaurants-2021-takeout-and-delivery-now-essential-customers
---
There's more where that came from.
Get in the know and check out our additional insights
View all posts
Start
cooking with us

today