Maybe you've always been a foodie with a taste for eclectic cuisine. Or, perhaps you've always loved a restaurant kitchen's hustle and bustle. Either way, you want to start your own restaurant business.
However, becoming a restaurant owner and opening your own location seems more complex than a French sauce. You simply don't know where to start.
Fortunately, we're here to help. By discussing how to start a restaurant business, we'll show you how to get your restaurant up and running faster than you can say order up.
#1 Write a strong business plan
Before you crack your first egg, you'll need to write a quality, detailed restaurant business plan. In short, a business plan is like a recipe for any successful business. It lists the business's concept, goals, and funding. It also may list the steps you need to take to turn your restaurant from a small eatery to the talk of the town.
Strong restaurant business plans typically include the following information:
Executive summary – An executive summary provides a broad overview of your restaurant. In doing so, your executive summary should identify your concept. Do you want to specialize in fine dining or casual? Will you ramp up your cocktail program? How many seats will your restaurant have? Many potential investors may only look at your executive summary. As a result, it's important to be as detailed as possible.
Market analysis – A restaurant market analysis explores the strengths, weaknesses, costs, and benefits of opening a business in a specific market. Market research and analysis can be beneficial for new restaurants because they allow you to see the success rates of similar restaurants in your area.
Restaurant specifics – If you don't have a fully-fleshed-out menu, that's OK. Even some Michelin-starred restaurants opened with limited menus. However, you should have a general idea of the food you'd like to serve. Furthermore, you should fine tune your restaurant operations. Do you want to have a sit-down restaurant, or do you want to be more grab-and-go? Finally, it's helpful to ballpark the number of employees you'll need.
Financing – The burning question - what is the cost to start a restaurant? It's no surprise that starting a restaurant typically costs a lot of money. On average, restaurant startup costs can total $250,000 to open. Detailing your operating costs and funding sources will help you gauge exactly how much money you'll need.
Beyond these core elements, your business plan might also include menu specifics, location details, and marketing strategies that have proven to be successful in the restaurant industry.
#2 Apply for licenses and permits
Once you write a strong business plan, it's time to apply for the licenses and permits needed to open a restaurant. While the number of permits you'll need depends on your independent restaurant's specifics, most restaurants require the following:
A general business license – Regardless of your restaurant type, you'll need a general business license. This license allows you to operate your restaurant in your area. That said, many states and cities have different license requirements. To find out your specific requirements, visit the U.S. Small Business Administration website.
A food service license – Any business that serves food needs a food service license. This license demonstrates that you're adhering to food regulations and safety protocols. Like a general business license, a food service license may have different requirements depending on your state and city. As a result, it's helpful to consult the U.S. Food and Drug Administration website. You might also need to apply for a liquor permit.
A certificate of occupancy – A certificate of occupancy demonstrates that your building is structurally sound and can hold a designated number of occupants. To apply for a certificate of occupancy, visit your county's website. You'll also need to pass several inspections.
In addition to these licenses, you may also need the following:
•A music venue license
•A sign permit
•A food handler's permit
•A food truck permit
•A dumpster placement permit
Ultimately, the specific permits you'll need depend on your restaurant's type.
#3 Do your homework to choose a location
If the adage, "location, location, location," is true in a general business sense, it may be doubly so for a restaurant. That's because many people enjoy restaurants that are easily accessible, visibly pleasing, and surrounded by other points of interest.
As a result, it's important to scout out a handful of possible locations before settling on your new restaurant's home. To this extent, note the following factors:
The area's average rent – Unless you plan on owning the building that houses your restaurant, you'll likely need to estimate rent. The last thing you want is to get your eatery up and running only to not make rent.
The location's foot traffic – If your restaurant will mostly rely on walk-in diners, you'll likely need to be in an area with heavy foot traffic.
The area's available parking – A lack of available parking can be more disappointing than a broken sauce. As a result, a location with plenty of places to park can make your guests even more ecstatic to try your latest dish.
The area's economic development plans – Restaurants in high-demand areas can see more volume than restaurants in less-desired areas. If you know a location will boom in the future, opening your restaurant in that area before market prices rise may be wise.
Plus, choosing a location in a bustling area could deepen the pool of applicants when it comes time to build your team.
#4 Find excellent employees
If you're wondering how to start a restaurant, you've probably thought about your employees. After all, most successful restaurants are more than solitary enterprises. They're places of cooperation, creativity, and dedication between you and your staff.
To hire the best team possible, take the following steps:
Make an estimate of the number of employees you'll need, what schedules you can offer, and what skills and previous restaurant experience they'll need to come equipped with.


Identify the restaurant's roles. At the very least, most restaurants need front-of-house (FOH) staff and back-of-house (BOH) staff. FOH staff includes servers, bartenders, hosts, and FOH managers. BOH staff includes dishwashers, line cooks, sous chefs, head chefs, and prep cooks


Write an attractive job description and post the job ad online, in community newspapers, and in other media outlets. In your ad, describe your restaurant and what prospective employees can expect in terms of work environment, pay, and benefits.
With a staff of exceptional employees, you'll be well on your way towards serving your community good vibes and good customer service—and even better food.
#5 Gather restaurant equipment
When it comes to restaurant kitchen equipment, a one-size-fits-all model doesn't exist. That's because different restaurants require different equipment. For example, a restaurant serving Italian-style sandwiches probably isn't going to need an assortment of woks on hand.
That said, most restaurants will require the following:
•Electric or gas ranges
•Ovens
•Dishwashers
•Broilers
•Freezers
•Shelves
•Cookware
•Plates
•Tables
•Utensils
•Sinks
This equipment could be expensive. On average, restaurant equipment costs range between $100,000 and $300,000, so be sure to account for this when outlining the specifics of your budget.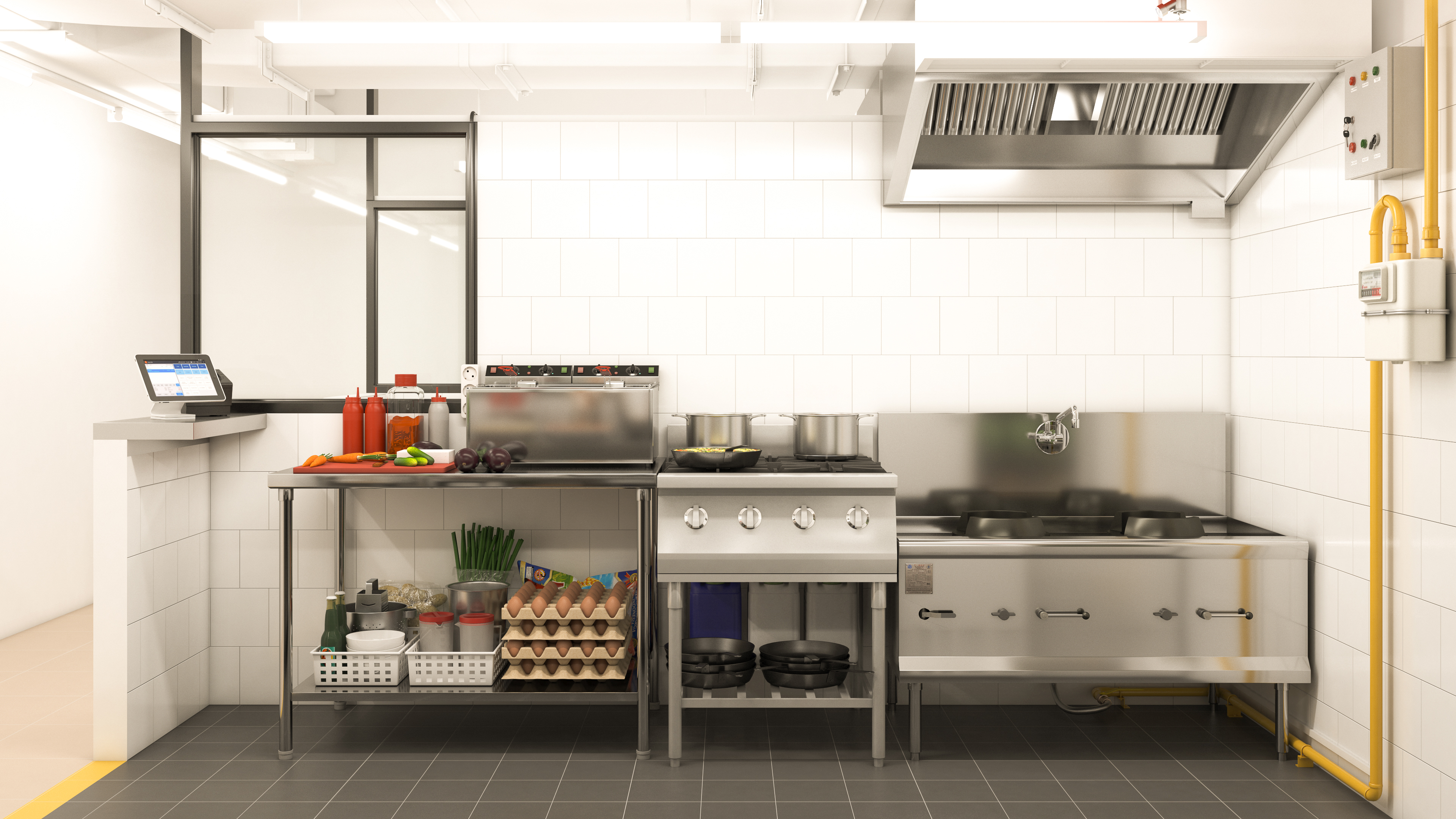 #6 Work on your menu
With licensing, staffing, and restaurant equipment out of the way, it's time for the truly fun part: crafting your menu.
Ultimately, your menu is up to you. As the restaurateur, you can decide:
•Which dishes you'll include
•The language you'll use to describe your dishes
•If you'll provide any background information
That said, exceptional menus typically are:
Well-designed – Well-designed menus are pleasing to the eye. These menus typically have easily-identifiable sections for the types of meals you'll be serving. They may also include well-written text to describe your dishes.
Accessible – Unless you're catering to a niche clientele, your menu should be accessible to a variety of diners. This means explaining dishes in a straightforward, comprehensible manner. You should also pay attention to text size and font. Additionally, you will want to consider the logistics of food delivery for the type of menu items you will be offering.
Informative – If you're serving fairly recognizable dishes, you may not have to provide much information. However, if you're serving a menu item that a majority of your guests may not have experience with, you may need to provide additional details. This is especially true if you wish to highlight interesting ingredients, cooking methods, or cultural context.
A well-crafted menu can be a huge advantage for a new restaurant. In addition to putting you on the culinary map, your menu might even garner critical acclaim in popular food publications.
Tips on how to start your own restaurant
Now that you have the basics covered, let's get cooking with a few actionable tips and insights:
Own your concept – While you may have to alter a few restaurant aspects here and there, follow your dream. Successful restaurants tend to have a firm grasp on their concepts.
Work with the best ingredients you can afford – Many chefs know that a dish is only as exceptional as its ingredients. Preparing dishes with the best ingredients can make guests want to come back for seconds.
Build a strong company culture – Like any business, a restaurant that employees and owners take pride in will generally be more successful than a restaurant lacking a strong culture. State expectations early and often. Hold your restaurant to a high standard from the beginning.
Another tip: save on expenses where you can. As we've seen, opening a restaurant can be expensive—in both time and money.
Cut down on some costs by considering a ghost kitchen. That way, you can open your restaurant in a shorter timeframe and potentially with a smaller investment.
Get cooking with CloudKitchens
CloudKitchens can make opening your restaurant easier than dicing an onion—and without all the tears. That's because our modern ghost kitchens provide several essential pieces of equipment and the support staff you need.
With our ghost kitchens, you could end up saving time and money. You can also save energy for what matters most: making guests happy every time they taste your food.
Whether you're opening a French eatery or neighborhood bakery, a swanky sub shop or a glorious gastropub, CloudKitchens is here to help.
Sources:
7Shifts. The Ultimate Guide to Restaurant Costs. https://www.7shifts.com/blog/restaurant-costs/#:~:text=Restaurant%20equipment%20will%20cost%20%24100%2C000%20to%20%24300%2C000%20depending,launch%20like%20signage%20and%20advertising%20Beginning%20food%20inventory
Eat. How to Write a Restaurant Business Plan (Step by Step Guide with Samples). https://restaurant.eatapp.co/blog/restaurant-business-plan
Entrepreneur. How to Start a Restaurant. https://www.entrepreneur.com/article/73384
Forbes. Key Tips For Launching A Successful Restaurant. https://www.forbes.com/sites/garyocchiogrosso/2019/06/29/key-tips-for-launching-a-successful-restaurant/?sh=9afbe6e4ed8b
Lightspeed. The 16 Licenses and Permits Needed to Open a Restaurant. https://www.lightspeedhq.com/blog/restaurant-licenses-and-permits/#:~:text=How%20much%20does%20a%20restaurant%20business%20license%20cost%3F,vary%20from%20as%20much%20as%20USD%2425%20to%20%247%2C000
Lightspeed. The Ultimate Guide to Hiring Restaurant Employees. https://www.lightspeedhq.com/blog/hiring-restaurant-employees/
Zen Business. How Much Does It Cost to Start a Restaurant? https://www.zenbusiness.com/startup-costs-restaurant/#:~:text=The%20costs%20to%20start%20a%20restaurant%20can%20vary,are%20all%20variable%20and%20can%20affect%20costs%20dramatically
---
There's more where that came from.
Get in the know and check out our additional insights
View all posts
Start
cooking with us

today