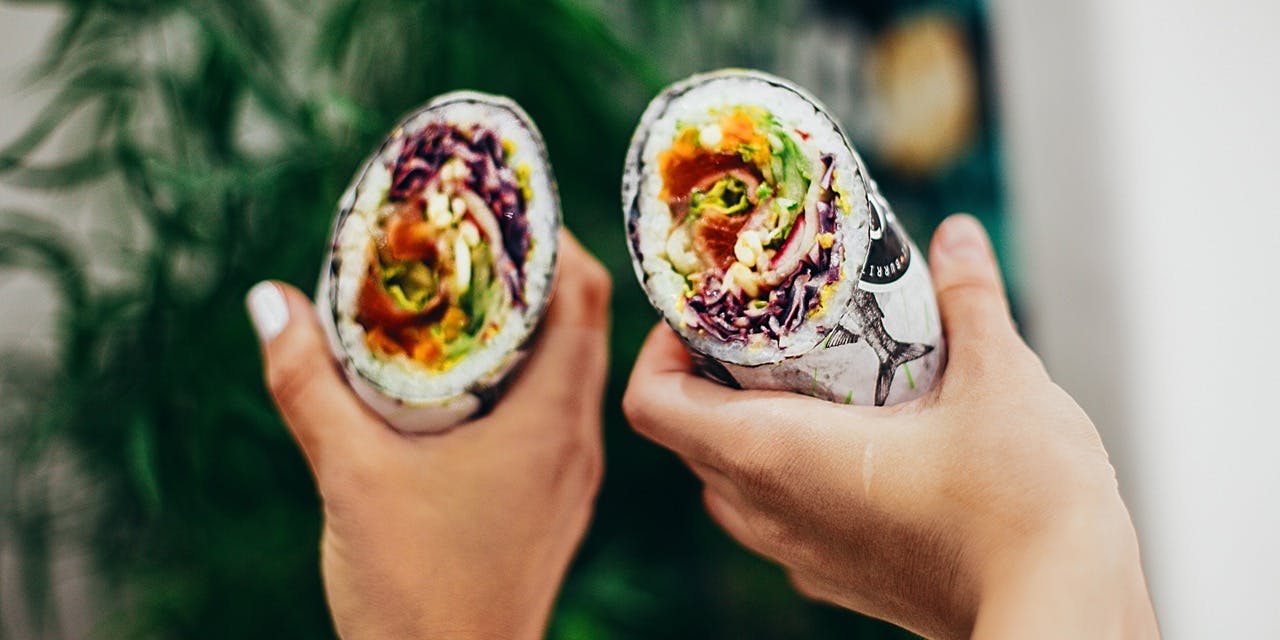 Unveiling the Latest US Delivery Trends of 2023: CloudKitchens Exclusive Report 
LOS ANGELES, CALIFORNIA, (NOVEMBER 15th 2023) ⎼ CloudKitchens has unlocked the latest food delivery trends in 2023 in the most recent 'Serving 2023' report. Compiling a year's worth of data and insights, this trend guide includes a deep dive into the latest food and delivery trends, A.I. tech emerging in the restaurant industry, how to eliminate food waste, and more. 
As more delivery options become available, restaurateurs are buying-in to a less risky alternative that will bring stability back to their business. Whether you're living in the middle of a bustling city, or a smaller neighborhood, there's likely a ghost kitchen in your vicinity that you can expand into.
Not only are restaurant chains in big cities catching on, but beloved mom-and-pop shops across the country are expanding with ghost kitchens to new areas large and 
small, reaching new customers every day.
As restaurateurs shift to delivery, there are more customers searching online for their next meal. In fact, it's estimated that up to 86% of consumers in the
U.S. are ordering delivery or takeout at least once a week. How you position your brand online will determine whether a customer will order from you or one of your competitors.
In our Serving 2023 report, we're diving into the top trends 
this year—and what's to come in 2024—to ensure you're staying ahead of the competition.
Here's just a taste of what we have cooking up in this year's guide:
Online food ordering traffic has grown 300% faster than traditional dining in the past few years, and it's only going up from there. With that comes an industry that's estimated to grow to a net worth of $1.65 trillion.
Curious what's trending for food delivery in your area? Download the full report to unlock more tips, tricks and delivery insights: 
We're diving into the top dishes that were ordered over the past year, some of them might surprise you:
TOP ONLINE FOOD DELIVERY ORDERS 
Cheeseburger and fries
Tikka masala
Pad Thai
California roll
Caesar salad
It's no surprise that a food delivery staple like a burger and fries made it on the list, but tikka masala? This popular dish made it on the list as a popular weeknight favorite for customers in the US. As a perfect pairing, naan bread is one of the top online delivery orders in Wyoming. 
Among the other top food delivery orders in the past year, including pad thai and California rolls, the most unexpected top delivery order was Caesar salad. As more salad restaurant brands emerge, there has been a surge in salad order with the classic Caesar salad taking the cake.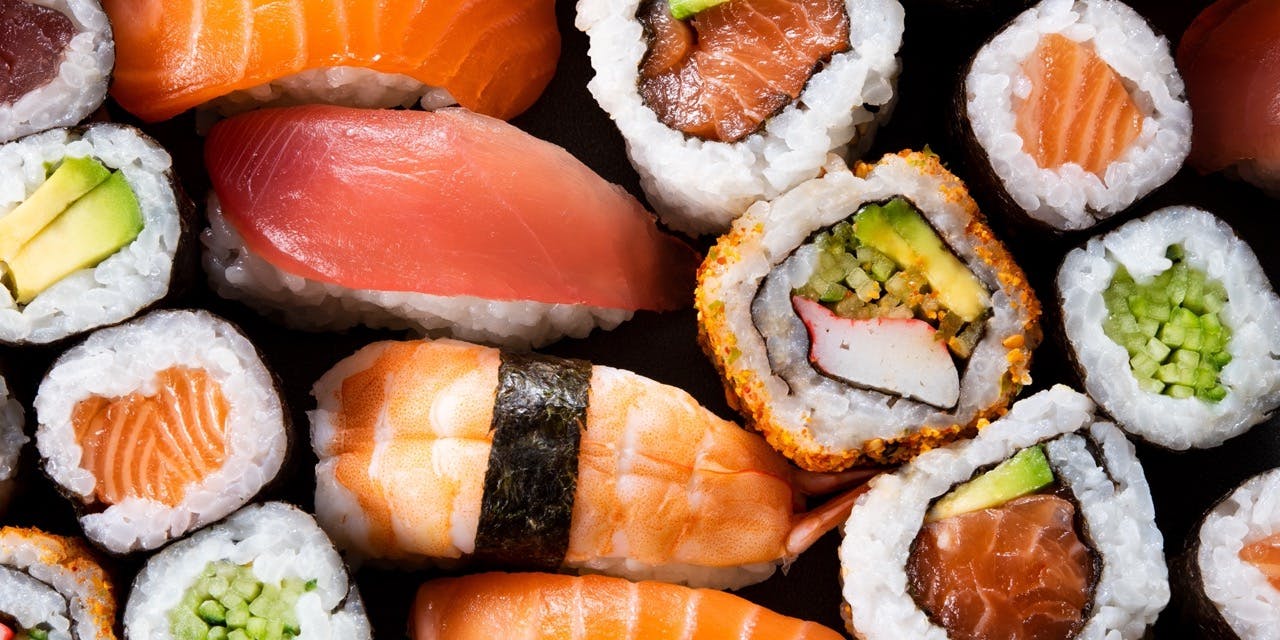 We know California rolls were popular in the past year, but what about other sushi rolls? Crunchy rolls, salmon tempura rolls, spicy tuna crunch rolls, Phoenix rolls and Lion King rolls are were top orders across the US.
MOST POPULAR SUSHI ORDERS IN THE US
Crunchy roll
Salmon tempura roll 
Spicy tuna crunch 
Phoenix roll
Lion King roll 
Some of the more unique orders on this list are the Phoenix roll and Lion King roll, which are most popular in Philly and San Francisco. 
Sushi isn't the only cuisine type ordered on the regular by hungry customers. It may come as no surprise that pizza was at the top, but what may be more surprising is the pizza flavors that were the most popular.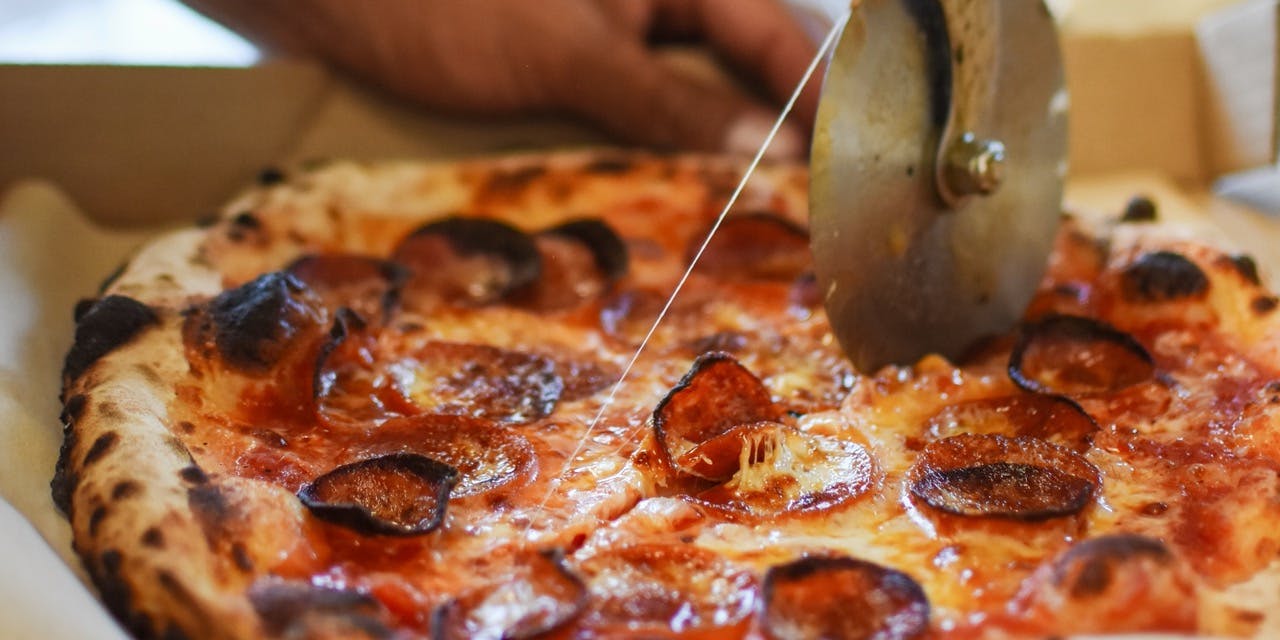 MOST POPULAR PIZZA ORDERS IN THE US
Hawaiian
Cheese
BBQ chicken
Chicken bacon ranch
Are you team pineapple on pizza? Or do you usually stick with a classic cheese pizza? South Dakota residents love their chicken bacon ranch pizza, and Delaware has their buffalo chicken pizza orders on repeat. 
Finally, french fries are a classic delivery order. But with so many options, what are US consumers typically ordering? Read on for some of the top french fry orders, even tater tots made it on the list.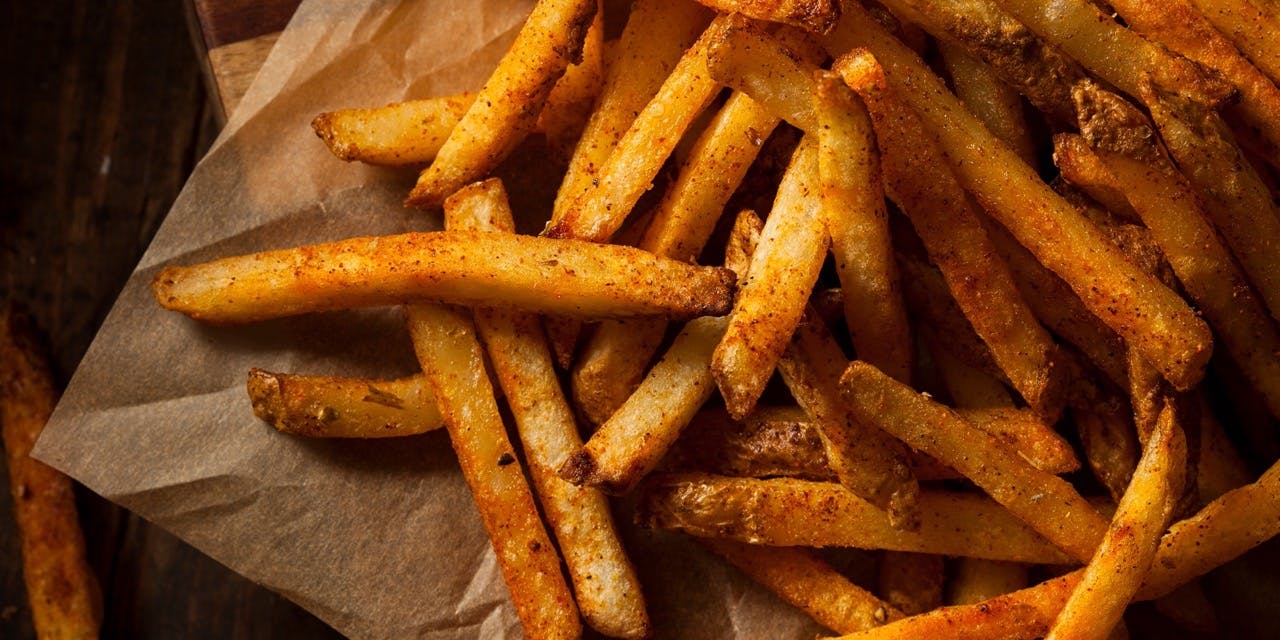 MOST POPULAR FRENCH FRY ORDERS IN THE US
Curly fries
Tater tots
Waffle fries
Shoestring fries
Cheese fries
Steak fries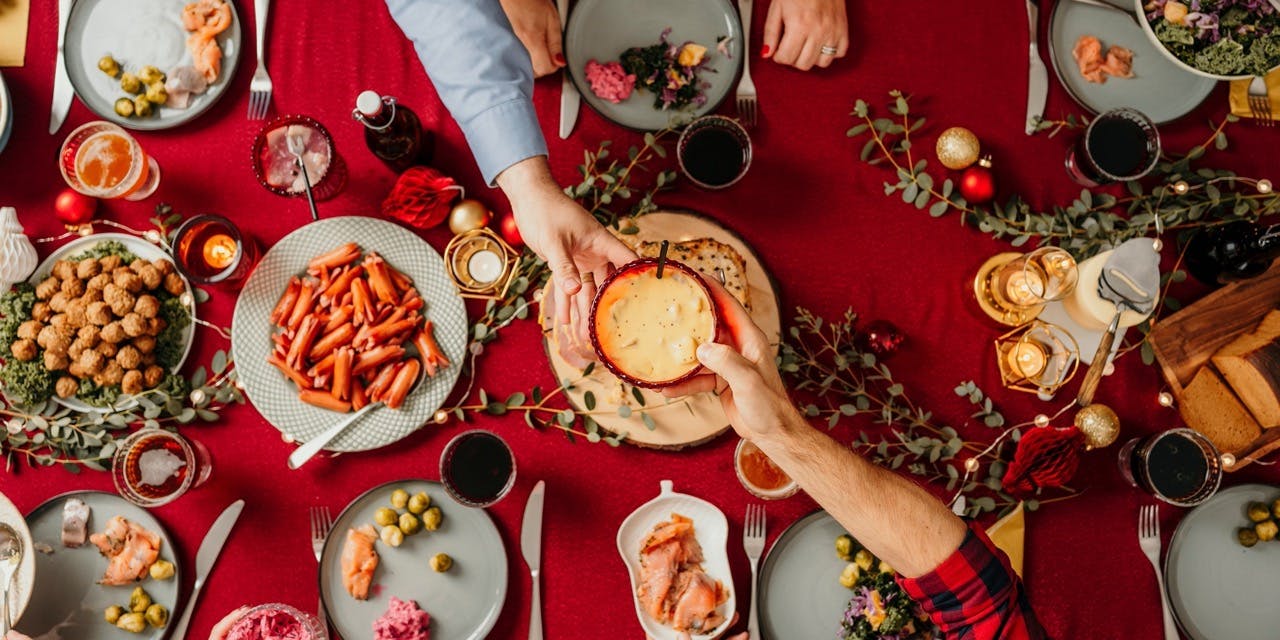 As we approach the holiday season, more hungry customers will look to delivery for their next meal.
We're diving into the most popular holidays for delivery, to help you plan your restaurant hours for maximum efficiency.
MOST POPULAR HOLIDAYS FOR FOOD DELIVERY 
Christmas Day 
New Year's Eve
Easter
Game Day
Mother's Day
Valentine's Day 
With chilly weather and busy travel days, more consumers are opting in for food delivery during the holiday season. In fact, on Christmas day, Chinese takeout orders see a 152% increase compared to all other major cuisine types. 
But that's not the only holiday that is heating up for delivery. 
New Year's Eve is one of the most popular holidays for delivery, with US consumers finding delivery more convenient before they head out to enjoy the festivities. 
Easter has recently become a popular holiday for delivery, as consumers prefer the convenience of ordering in and spending time with family, along with Mother's Day as well. 
It may come as no surprise that game day is a top day for food delivery every year, with up to 12.5 million people ordering pizza on football Sunday - not to mention all the orders for nachos and wings. 
And finally, Valentine's Day. Each year, more couples are opting to dine in to avoid the packed restaurants and long wait times. 
A variety of holidays and cuisines are trending this year when it comes to delivery. With this, there's also new tech coming to the delivery space. More restaurant owners are turning to AI tech to help maximize efficiency. In fact, a recent Forrester study found that up to 69% of companies have cut operating costs with the help of AI.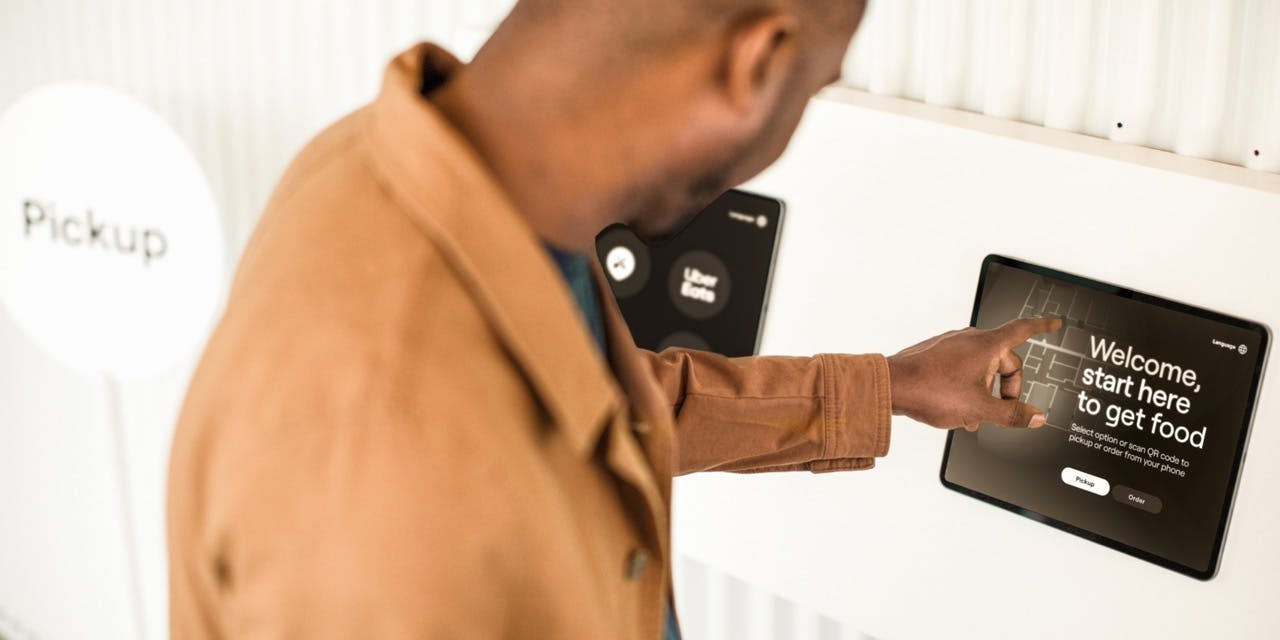 Whether you're looking to leverage delivery drones to automate customer service or optimize your online menu, we did the homework for you to uncover the top AI tools for your restaurant: 
TOP AI TOOLS FOR RESTAURANTS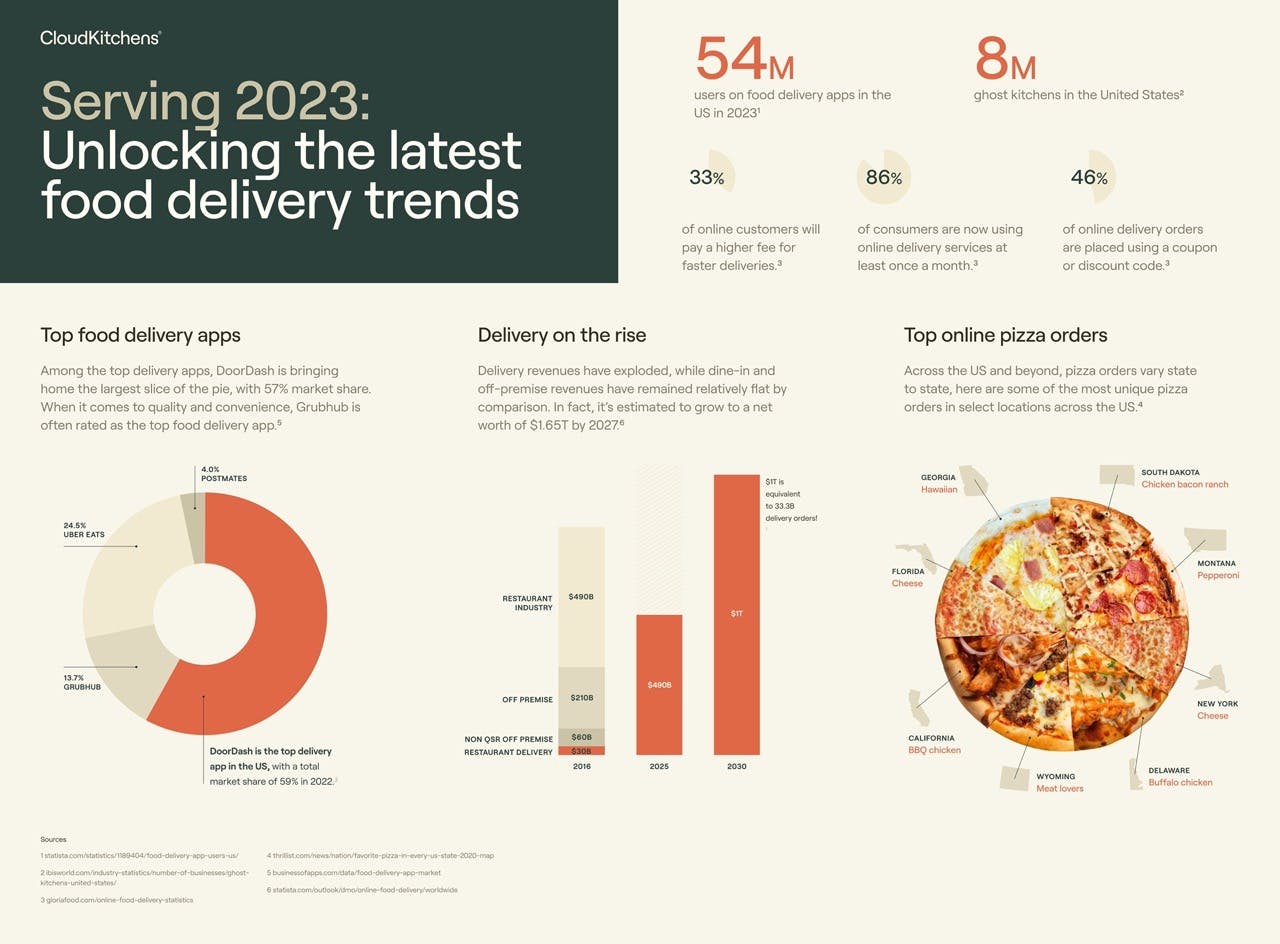 Download our free guide to unlock more industry insights across the US.
About CloudKitchens
CloudKitchens is a leading name in the ghost kitchen revolution, providing innovative solutions for restaurant operators to thrive in the digital age. Our high-demand locations empower culinary entrepreneurs to reach new heights in the world of food delivery and online ordering.
Sources
https://www.statista.com/outlook/dmo/online-food-delivery/worldwide
https://www.ibisworld.com/industry-statistics/number-of-businesses/ghost-kitchens-united-states/
https://www.businessofapps.com/data/food-delivery-app-market/
https://www.gloriafood.com/online-food-delivery-statistics 
https://www.fastcasual.com/resources/the-future-of-online-ordering/
https://www.yahoo.com/lifestyle/hamburger-facts-172259185.html 
https://blog.yelp.com/news/yelp-reveals-the-most-popular-delivery-order-unique-to-every-state-during-covid-19/
https://www.forbes.com/sites/katiesola/2016/06/17/the-most-popular-sushi-orders-in-major-u-s-cities/?sh=c3e2f2f6dd72
https://www.zippia.com/advice/each-states-favorite-fry/
https://www.eater.com/2014/12/23/7443135/if-youre-ordering-takeout-on-christmas-and-christmas-eve-its-probably
https://get.doordash.com/en-us/blog/busiest-days-for-food-delivery 
https://www.mashed.com/757811/this-is-how-much-pizza-gets-eaten-during-the-super-bowl/ 
https://www.forbes.com/sites/forbestechcouncil/2022/09/22/10-ways-ai-is-transforming-the-restaurant-industry/?sh=1bdf3f076ec8