Succeed in Delivery with Ghost Kitchens
☑️ Start cooking in weeks, not months
☑️ Minimize risk, maximize profit
☑️ Reach more online customers
☑️ Streamline orders to one single tablet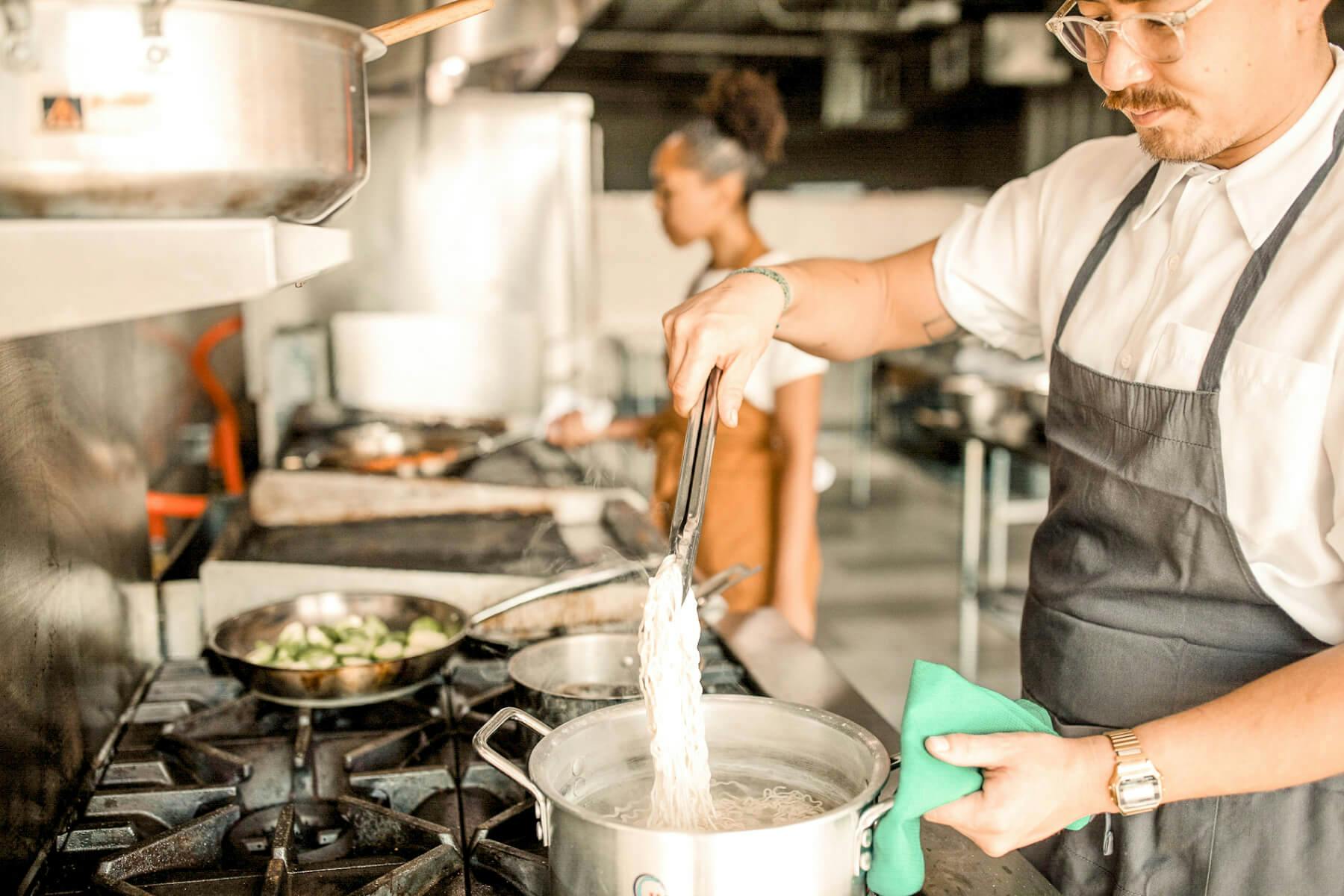 Trusted Delivery Partners
What's a ghost kitchen and how does it work?
Ghost kitchens, also known as dark kitchens, are commercial kitchens built and optimized for delivery. Each kitchen space is strategically located in areas with a high concentration of online delivery demand. 
You can think of them as virtual restaurants operating as digital storefronts, with just a few back-of-house staff members focused on preparing online orders. Each facility handles fulfillment and logistics so you can focus on cooking—allowing you to reach new customers with far less effort.
Ghost kitchens offer prime real estate at a significantly reduced cost compared to traditional brick-and-mortar buildouts, enabling you to save up to 90%* on your initial capital investment. Moreover, they boast a swift setup time, allowing you to go from concept to operation in a matter of weeks instead of months.
Benefits of ghost kitchens

Get cooking in weeks, not months

Minimize risk, maximize profit

Reach more online customers

Streamline orders on one single tablet
How we compare to traditional restaurants
Real estate
Pay only for the space you need vs. empty dining rooms and waiting areas.
Traditional Restaurants
1000 sqft
---
Staff required
We provide support staff and there's no need for front-of-house labor—so you can work with a smaller team.
Traditional Restaurants
~10 staff
---
Investment
Avoid the $1 million+ startup cost on your own restaurant to start seeing profits faster.
Traditional Restaurants
~$1m
---
Weeks to launch
Our facilities are move-in ready and we can help navigate the permitting process.
Traditional Restaurants
~52 weeks
---
Breakeven
With a ghost kitchen, you can break even in as little as 6 months with a 10% profit and $1M in annual sales.
Traditional Restaurants
~5 years
/ Testimonials
The word 
on the street
Questions?
We're here to help.
Ghost kitchens, also known as dark kitchens or virtual kitchens, are optimized for food delivery. They're strategically located within delivery radii that serve high volumes of online customers in popular cities. With ghost kitchens, there are no physical dining spaces, so you only need a few back-of-house staff members to fulfill your online orders and grow your business.
---
How does a ghost kitchen work?
In a ghost kitchen, your restaurant is focused on delivery orders rather than dine-in. When a customer orders your food online, you'll prepare the order and hand it off to a dedicated runner—they'll make sure it gets to the right delivery driver. This gives restaurateurs a low-cost, high-efficiency model to get the most out of their ghost kitchen and delivery business.
---
Are ghost kitchens profitable?
Ghost kitchens can boost profits by focusing on the essentials while reducing labor, overhead, and food waste. They reach more online customers from their high-demand delivery hot-spots and can accommodate many virtual brands to maximize the productivity of each ghost kitchen.
---
Why are ghost kitchens so popular?
Ghost kitchens are rising in popularity because they're a lower-cost alternative to operating a traditional restaurant. They're also focused on delivery, which has grown 300% faster than dine-in since 2014. That means restaurateurs are using ghost kitchens to accelerate growth and future-proof their business.
---
How does a ghost kitchen help your restaurant grow?
Ghost kitchens operate a business model that was specifically designed for the online food delivery business—to minimize costs while maximizing profit. The way we dine has changed and ghost kitchens allow restaurant operators to capture food delivery demand without sacrificing their bottom line. They're also a great way to expand to new markets without spending time and money on a traditional restaurant buildout. You can easily expand your restaurant brand to different cities across the United States—from Los Angeles all the way to New York.
---
How much do ghost kitchens cost?
The cost of a ghost kitchen varies by market, space, and add-on services. Compared to a traditional restaurant, they're a much lower cost alternative on both upfront capital and ongoing operating costs. You can get started in a ghost kitchen with as little as $30K, instead of $1M+ for brick and mortar buildout.
---