Succeed in food delivery + pickup
Tour a kitchen to get started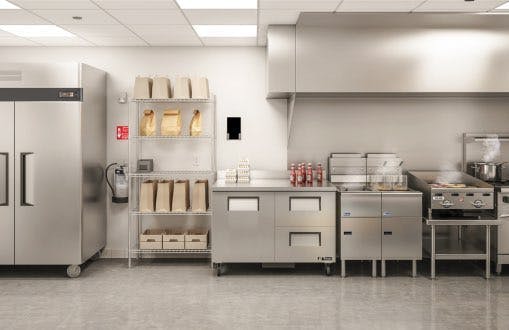 Our kitchens were made to help you get the most out of delivery
Turn-key solution
You can launch a ghost kitchen in one month. No need to wait 12-18 months to build out a brick and mortar.
---
Focus on the food
All you've got to do is cook - we handle the logistics and fulfillment to make sure your orders are delivered with more accuracy, in less time.
---
Build multiple concepts out of one kitchen
Capture more delivery orders with multiple brands. Our most successful customers are often running 5 brands out of a single kitchen.
---
Experiment with no risk
Ghost kitchens are a low cost, low risk way to experiment with menu items, cuisine types, or even new markets.
---
Streamline orders on one tablet
Manage all your delivery orders from a single tablet and leverage the data to increase your efficiency.
Grow your profit margins
Cut costs on front-of-house labor, wasted food, and expensive real estate, while maximizing your delivery revenue.
How we compare to traditional restaurants
Real estate
Commercial kitchens and storage space designed to help you run your delivery business with maximum efficiency and minimal cost.
Traditional Restaurants
1000 sqft
---
Employees
Work with a much smaller team while we provide an onsite support staff to help you run more smoothly.
Traditional Restaurants
~10 people
---
Investment
We have a much smaller startup cost so you can start seeing profits and results faster.
Traditional Restaurants
$100k
---
Weeks to launch
Open a restaurant quickly while we work through all the construction, permits, and bureaucratic red tape.
Traditional Restaurants
24 weeks
---
To break even
With a Virtual Kitchen, it only takes 6 months with 10% profit on a $1M run rate to break even.
Traditional Restaurants
48 months
Leverage the on-demand food economy
Our commercial kitchens are designed to help you succeed in delivery and expand their business, whether you're an entrepreneur, small business or established restaurant chain.