It's Time to Future Proof Your Franchise Restaurant
As a franchisee or franchise developer, you may have been wondering how to expand your restaurant, but are concerned with the time and costs that come along with opening another location. Especially during a pandemic, opening another franchise brick-and-mortar is becoming even more difficult, as consumer behavior continues to shift toward online ordering.
In fact, it's estimated that up to 70% of meals will be ordered via online delivery by early 2021.1
Although you want to continue to expand and grow, is another brick-and-mortar worth the time and cost during an uncertain time for dine-in?
Now there's a new business model you can now tap into. Have you ever considered expanding your franchise restaurant within a ghost kitchen instead?
Food entrepreneurs are now turning to ghost kitchens, which provide them with a fast and inexpensive way to expand their business through online delivery. Ghost kitchens bring highly efficient solutions for you to quickly expand to new markets and cut the costs you'd have with a full service restaurant.
Within weeks you can launch in new regions and determine which will be the most successful, without making a large investment. Curious how launching with CloudKitchens compares to opening another franchise brick-and-mortar? See for yourself how easy it is to expand your brand in a ghost kitchen.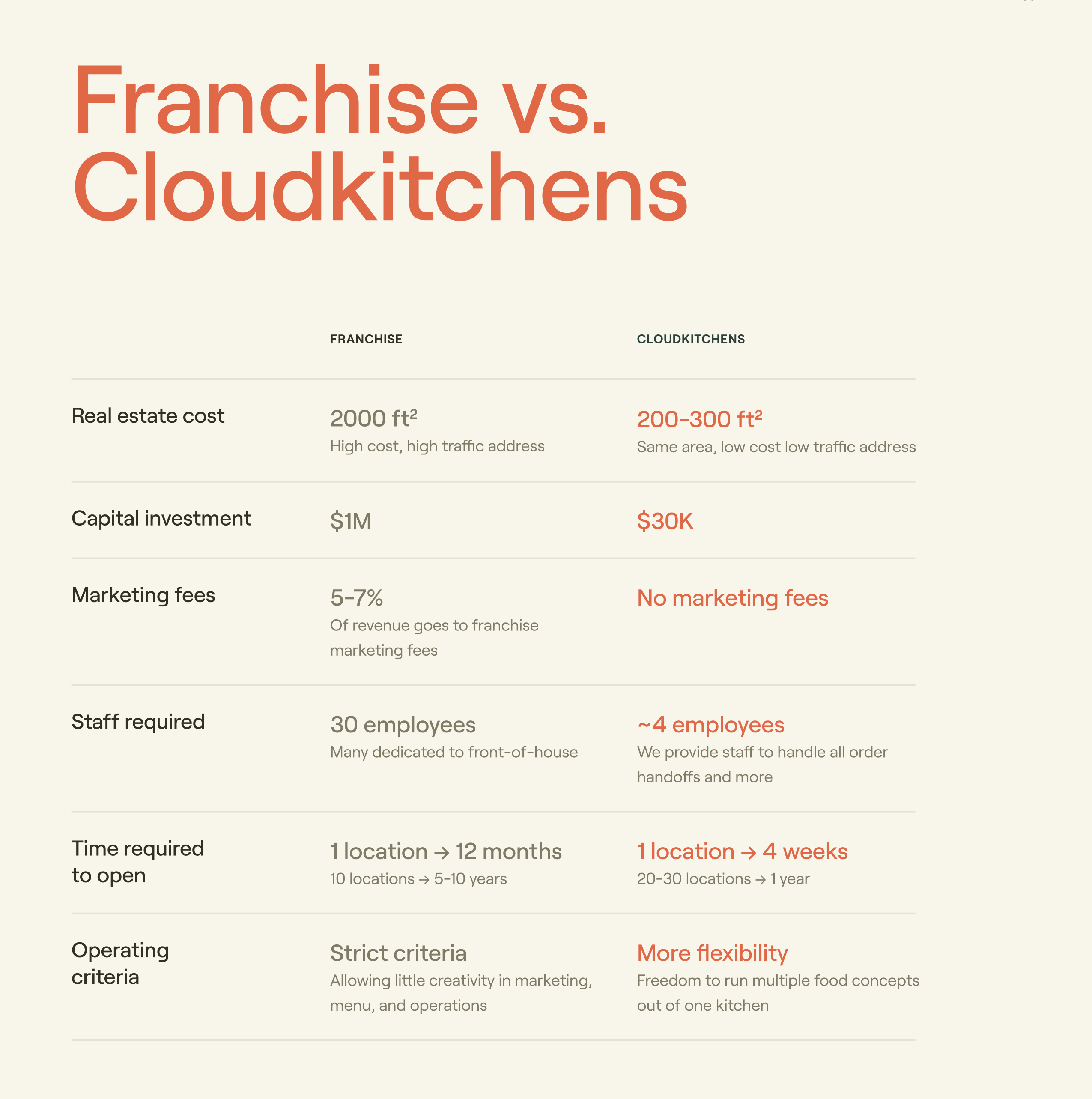 Why Ghost Kitchens?
There have always been plenty of avenues for expanding a food franchise, whether it's opening up a drive thru, traditional brick-and-mortar, or even a food truck. And now, there's ghost kitchens: the newest culinary concept that helps restaurant owners quickly expand and scale their food business via delivery. These commercial kitchens provide your franchise with the tools you need to successfully expand your brand in a way that's low risk and low capital.
There's no need for opening a new brick-and-mortar location, instead you can open within a ghost kitchen in as little as one month and at a fraction of the cost.
If you're eager to grow your footprint and expand to new markets, CloudKitchens provides commercial kitchens with all the pieces of the operations puzzle, so you'll be off to the races in no time.
Let's see how ghost kitchens can help you and your franchise business.
Lower Costs
The start-up capital involved with a ghost kitchen is far less than opening a new franchise brick-and-mortar. If you're planning to open a McDonald's franchise, you could open in a ghost kitchen with about $30K in upfront investment versus $200-500K with a brick-and-mortar location.2 The risk is much lower with a ghost kitchen, given your upfront investment is minimal, and your speed to open is significantly faster.
The operational costs are much lower, too. With a ghost kitchen, you only need a few back-of-house staff members, since there's no dine-in element (much lower labor costs). Plus, you'll be reeling back on costs like rent and wasted food, so your kitchen is running at maximum efficiency.
You'll be cutting costs right and left, while you watch your profits grow.
With higher margins, just think of how many new franchise locations you could open.
The possibilities are endless.
Turnkey Expansion
You'll not only be cutting costs, but also minimizing time spent on opening a new location. Ghost kitchens serve as your main vehicle to expand in new markets, where you're up and running in as little as one month.
Instead of long ramp up periods and wait times around construction for a new brick-and-mortar location, ghost kitchens provide you with the perfect turnkey solution.
Let's say you're new to franchising and learning how to start a franchise. Say you're opening your first Steak n' Shake franchise. Instead of waiting up to a year in negotiating your lease, construction and training, with a ghost kitchen you're ready for business in weeks with a kitchen fit with the basic equipment to get started.
You'll also see an ROI in less time. With a minimal upfront investment and lower overhead costs, you're able to save while growing your restaurant business. You can break even on your investment in as little as 6 months, whereas if you were to open a new brick-and-mortar location it could be five years before you make your money back, assuming it's a success.
Dennis Ju, VP of Franchise Development at Dickey's Barbecue Pit agrees that ghost kitchens have made expanding his franchise brand a whole lot easier.
Here's what Dennis has to say about expanding a franchise brand at CloudKitchens:
"CloudKitchens is the future. The early bird gets the worm, and we wanted to be one of the early adapters staying ahead of the delivery trend. It was a big headache trying to get new locations open in a pandemic, but CloudKitchens was a lightbulb moment for us. It's been our solution to COVID. In a typical restaurant buildout it can be upwards of $500K-$1M and can take 6-24 months. With CloudKitchens, you see ROI at a much faster rate, and with no long buildout process. It's move-in ready and plug-and-play."
Dickey's Barbecue Pit
Ghost kitchens simplify delivery, so you can meet demand and expand your franchise brand...even during a pandemic.
Reach More Customers Online
With a ghost kitchen, you'll be able to reach more customers than ever before, from one single kitchen. With the wide selection of food options online, customers are ordering food directly from their phones at a rapid rate. And with the convenience of ordering delivery from practically anywhere? There's a reason online delivery is booming.
When you open up a ghost kitchen, you're tapping into an industry that's expected to reach $490B by 2025.3
You'll be located within a delivery hotspot, so you can reach a higher volume of customers at a fraction of the cost. This means you can expand your reach without ever having to open another brick-and-mortar location.
Let's say you own a Chick-fil-A franchise where the bulk of your business is locals dining inside your brick-and-mortar location. When you expand with a ghost kitchen, you'll be reaching a whole new set of customers online, in addition to your dine-in regulars.
But how easy is this to really set up your franchise in a ghost kitchen? Let's dive into the specifics.
Expand Quickly
When you're considering opening a restaurant, you may also be wondering which brand is the most profitable franchise to own. Let's say you decide to open a new Starbucks franchise in your city. What if, instead of opening only one location, you could open multiple and quickly scale your business?
With ghost kitchens, you can expand your food franchise quickly without the hassle. There's no need to build a separate brick-and-mortar for each location, you can just open up shop with a delivery-only kitchen, and let the orders roll in.
Plus, you'll also be reaching more customers through multiple digital storefronts at no additional cost. Instead of a physical storefront for each location, you'll have multiple online storefronts within each delivery app.
Partner With Delivery Experts
When you partner with CloudKitchens, you're provided with the technology you need to track each order seamlessly. You'll accept each order through one single tablet, regardless of which delivery app the customer used to order. Then all you have to do is start cooking.
With CloudKitchens, you benefit from specialized support, with deep expertise in food delivery marketing and operations. Our team is stacked with pros hailing from Uber Eats, DoorDash, and the likes, so you've got all the support you need to be successful.
With us working alongside you, you're able to focus on what matters most: expanding and scaling your franchise brand. You'll be working with delivery experts who have a proven formula for rapid growth.
Our on-site fulfillment team is dedicated to getting your orders delivered faster and more accurately. And we take care of the cleaning, maintenance and security so all you've got to do is start firing up those grills.
If you have one Popeyes franchise in the LA area, why not open multiple? With the CloudKitchens team alongside you every step of the way, you'll expand and grow in a fraction of the time, so there's no more sweating the small stuff.
Ready to Open a Ghost Kitchen?
At CloudKitchens, we're helping franchise owners and developers grow their restaurant business by optimizing for delivery. We've reimagined the restaurant industry, and now is the time to capitalize on this market opportunity that's only expanding.
Ready to start firing up those grills? Tour one of our facilities today!
Sources
1 https://www.franchisedirect.com/blog/the-next-big-thing-in-food-franchising-ghost-kitchens-get-a-pandemic-boost
2 https://pos.toasttab.com/blog/on-the-line/how-much-does-it-cost-to-open-a-restaurant
3 Morgan Stanley. 2016.
---
There's more where that came from.
Get in the know and check out our additional insights
View all posts
Start
cooking with us

today